Weekly Brief
Rinat Tuesday Brief - Tuesday, November 22nd, 2022

Please note that Kol Rinat will be sent on Wednesday, November 23rd this week and the submission deadline is Tuesday, November 22nd at 12pm.  

There are many volunteer opportunities in the Rinat community. To become involved and be included in our database, click here.

Rabbi Strauchler's Visit to Rutgers University JLIC– Tuesday, November 22nd, 8pm. "Topics in Contemporary Halacha: Must I Not Enjoy the Holiday Season?" JLIC Beit Midrash.

All Wednesday programming, including Community Kits at Rinat, Rinat Chavruta Initiative (RCI), Rabbi Wiener's Topics in the Weekly Daf Yomi and Rabbi Effy Unterman's Chabura, will resume next Wednesday, November 30th.

Thanksgiving Legal Holiday Shiur, Dr. Yehuda D. Galinsky– Thursday, November 24th, 9am. "Of Four that are One: The Evolution of Jacob ben Asher's Four Turim." For source materials, click here. Beit Midrash.

Thanksgiving Hakarat Hatov and Donation Drive- Thursday, November 24th, 10:30am. To volunteer, click here. Social Hall.  

Young Professionals Oneg Shabbat- Friday, November 25th, 8:30pm. Strauchler home, 662 Sunderland Road. To RSVP, click here.

Thanksgiving/MVP Communal Kiddush, Shabbat, November 26th, after the 9am minyan. For sponsorship opportunities, click here. Social Hall. Thank you to our sponsors.

Parent/Child Learning will resume Motzei Shabbat, December 3rd.

Bar Mitzvah Class with Rabbi Strauchler- Motzei Shabbat, November 26th, 6:45pm. Please note new time. Classroom D/E.
​​​​​​​
​​​​​​​​​​​​​​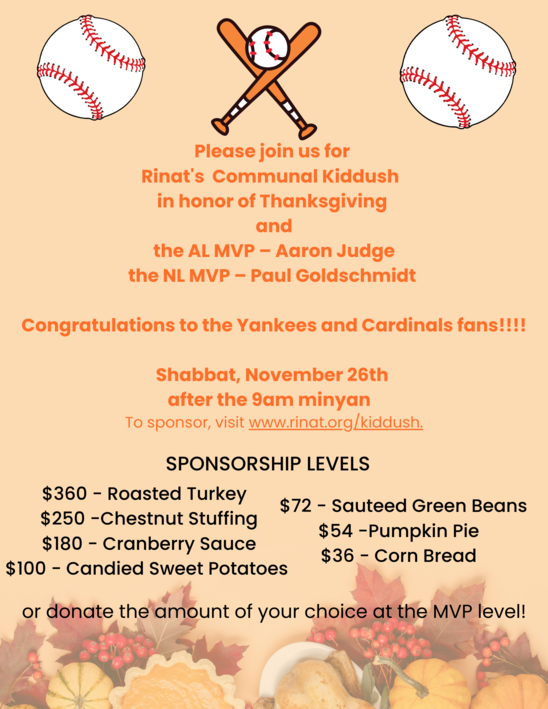 ​​​​​​​
Sat, April 1 2023
10 Nisan 5783
Today's Calendar
Shacharit

: 7:00am
Shacharit

: 8:30am
Shacharit

: 8:45am
Shacharit

: 9:00am
Daf Yomi

: 10:30am
Mincha

: 2:00pm
Pre-Mincha Shiur

: 5:30pm
Mincha/Maariv

: 6:30pm
Jr. High Mishna Shiur

: 6:45pm
High School Shiur

: 7:00pm
Jr. High Mishna Shiur

: 7:00pm
Havdalah

: 8:03pm
---
Tomorrow's Calendar
---
Friday Night
Daf Yomi

: 6:10pm
Pre-Mincha Shiur- Terry Novetsky

: 6:10pm
Candle Lighting

: 7:09pm
Mincha/Maariv-Main Shul

: 7:10pm
Shabbat Day
Shacharit

: 7:00am
Shacharit

: 8:30am
Shacharit

: 9:00am
Shacharit-Social Hall
: 9:15am
Daf Yomi

: 10:30am
Mincha

: 2:00pm
Pre-Mincha Shiur- Rabbi Noach Goldstein

: 5:55pm
Mincha/Maariv

: 6:55pm
High School Shiur

: 7:10pm
Jr. High Mishna Shiur

: 7:10pm
Havdalah

: 8:11pm
Upcoming Programs & Events
---
This week's Torah portion is

Parshat Tzav
Candle Lighting
Havdalah
Motzei Shabbat, Apr 1, 8:03pm
Shabbat HaGadol
View Calendar
Contact Us
389 West Englewood Ave.
Teaneck, New Jersey 07666
Tel: 201-837-2795
Fax: 201-353-2357
www.rinat.org
office@rinat.org
Shul Office Hours
Monday - Thursday 9am - 5pm
Friday 9am - 2pm
Sat, April 1 2023 10 Nisan 5783